In this section you will find the GMI product instructions for use in soft copy. These products should only be used by trained professionals.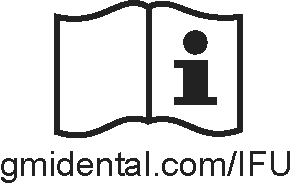 This symbol on the labelling indicates that the Instructions for Use (IFU) for the corresponding product are available on our webpage at https://ifu.gmidental.com/. You can view, save and print the IFU. Please, choose the pages of the language you require via the printing menu.
For more information, you can download both the Surgical manual and Prosthetic Manual.
All documents are available in PDF format. To read them you must have Adobe Reader® installed on your computer. Otherwise, click here to download Adobe Reader® for free.
A printed copy can be requested through our contact form